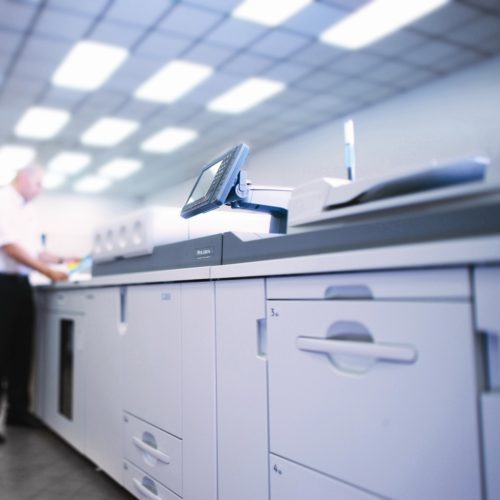 XMPie Variable Data/Imaging
Xerox iGen
Synthetic Substrates up to 16pt.
14 x 26" Sheet Size
 Dry Matte Ink Technology
String together these 8 items () and you will begin to see why Flagship domin8's the northeast. There are no others that can offer this unique combination of services, equipment redundancy, and single source capability. We offer you the ability to simplify the process while increasing your brand awareness, response rates and ultimately your profitability. Reach out to us today so we can help you domin8 your competition as well.
85,000 square-foot printing, production, distribution and mailing facility
You'd be hard pressed to find a printer operating in a more sustainable fashion than Flagship. From our renewable energy powered facility to our FSC® certified printing processes and UV inks, we are on the forefront of environmental responsibility.
Flagship Press is a G7 Master certified print production facility. The idealliance G7™ Master qualification program identifies only those printing companies who have been trained to proof and print using the new G7™ methodology. This trade mark of quality is the result of the modern technology, techniques, process controls and standards we use to produce high-quality commercial printing.
Flagship has made a commitment to investing not only in our business, but also in the communities we serve through charitable contributions and community service. Each year, Flagship dedicates resources to positively impact our local communities.
Creative Director
Saltwater Creative Agency
We received our samples yesterday and they look fabulous! Please thank everyone involved on the project for doing such a wonderful job.
Thank you again for all your help, it made the job go smoothly through production. It was a pleasure working with you.
Assistant Director of Marketing
Mt. Wachusett Community College
Just stopping by to thank you for all that you do for us – I just opened the admitted student booklet and OMG we are all so very happy with it! I brought a handful to admissions and they are practically doing backflips! They are so impressed too!
From the easy to the complicated, you guys always provide the very best for us and we appreciate you both!
150 Flagship Drive
North Andover, MA 01845
1.978.975.3100
1.800.733.1520